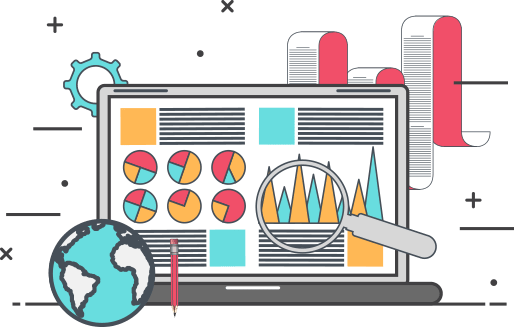 Digitalized Era – ROI Driven Digital Marketing Agency
We walk every way to make your business seen and found, and bridge gaps between loyal and potential customers of your brand effortlessly. We are Digitalized Era, a highly praised digital marketing company. Our emergence as one of the best digital marketing agencies is not a one-day voyage. Said it is "Roam was not built in a day" and so we are. It is our continual endeavor, to adapt dexterity, and instantaneous know-how to help us become the top digital marketing agency around the world. 
We indulge ourselves to learn every day to cater meek to multifaceted digital marketing needs ultimately.  We push our boundaries from bigger to magnanimous in helping our clients meet their goals on global digital platforms with favourable upshots. Be it social media optimization, web design and development, digital marketing, search engine optimization, social marketing, and/or web analytics; Digitalized Era, has result-compelled strategies and ethical tricks up its sleeve to offer optimum services to its clients.
Our Mission
Digitalized Era is on a mission to build an assorted clientele base and to partner with companies and sole functioning businesses to notch their success with progressive aftermaths. Also, strive hard to offer forward-thinking 360-degree digital marketing solutions at cut-rate packages.
Our Vision
We reverie to becoming an entrepreneur in digital marketing services by transforming strategies and setting wholly innovative state-of-the-art of digital marketing with competence and sure-fire achievement. In the coming years, we vision our services reaching global stature service worldwide clients.
Timeline
We believe, easy to say than easy to get done. The reason why, we draw our project timeline along with plans, goals, and strategies that we can win through the expectations of our clients certifying their success resonating with their demands.
When Leather Made In Italy started this organic SEO journey with DigitalizedEra, not one short or long tail keyword was in the top 100. That means not one keyword would have brought our website up in over 10 pages of Google. Now all of our keywords bring our website up on either the first or second page of a Google search. This makes me very pleased with our progress.
These people are the best in digital marketing services. They helped our business to grow with an improved organic ranking, traffic flow, and reach out to potential customers. Thanks, guys! Keep up the good work!
Super service! I would definitely recommend. They put your mind at ease and communicates very well. I look forward to the monthly reports and progress made
The best Company i have dealt with, i strongly recommend DigitalizedEra
Mr. Raj at Digitalized Era made beautiful posts for my Instagram and Facebook pages and he was kind and patient enough to help me with technical knowledge
I began an online drop shipping store with products I loved and definitely needed help expanding and reaching others. Luckily, Raj and his team with DigitalizedEra came across my store, reached out to me, and offered an SEO campaign. Raj has been so helpful, professional, knowledgeable and communicative. I'm very happy with the effort, work and progress we have seen! Raj and his team with DigitalizedEra have really helped make improvements to my store and search engine rankings. I am happy to be working with them and look forward to further improvements!